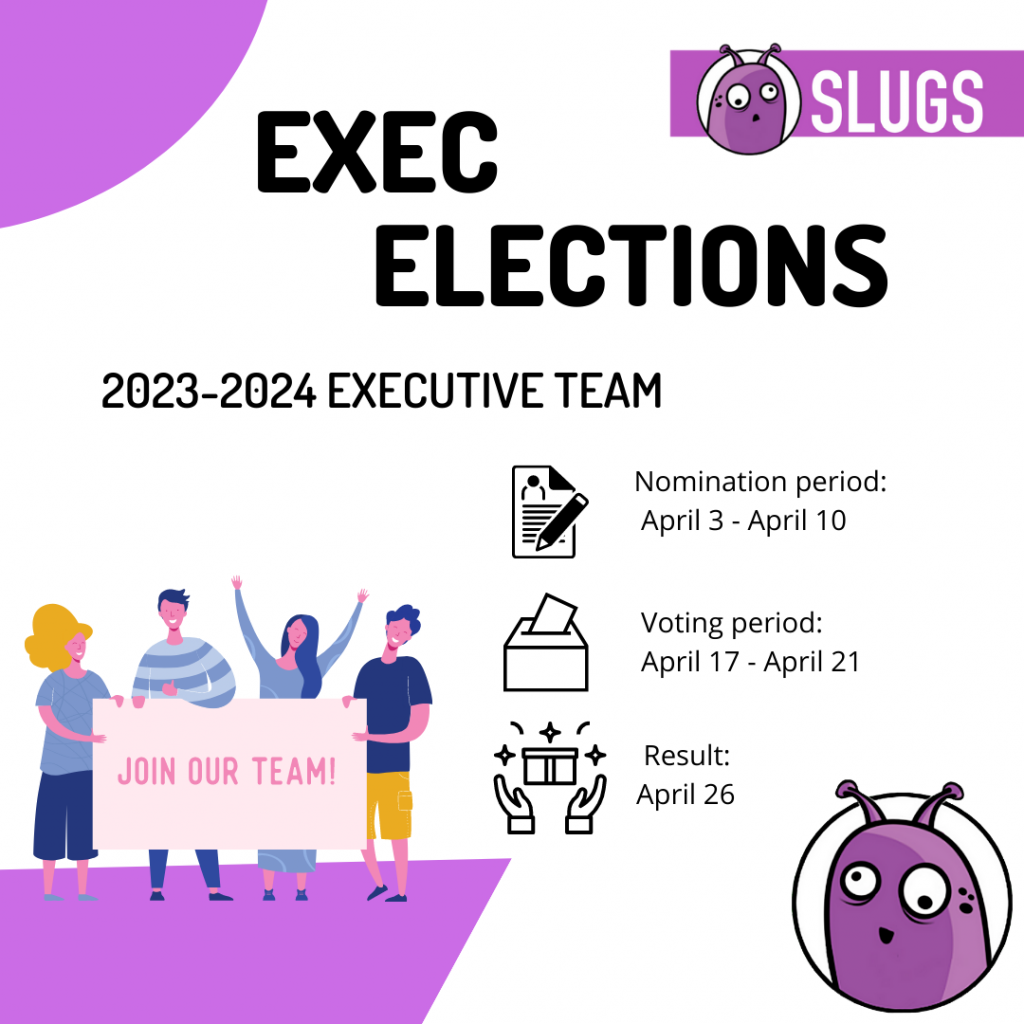 Our nomination period is over! Click on the links below to read the candidate profiles for each position.
Voting will officially start April 17, 2023!
---
Eligibility
If you want to run in the election, you need to be able to vote in the election.
All current members of SLUGS, including students who are graduating this year, can vote in the election. You are a SLUGS member if you are currently:
An ASSU member, AND
Registered in one or more LIN/JAL/JLP/JLS courses, OR
Registered in a program provided by the linguistics department at St George campus.
You are an ASSU member if you are (adapted from the ASSU constitution):
A full-time undergraduate student of the Faculty of Arts and Science registered on St George campus, OR
A undergraduate student of the Faculty of Arts and Science registered on St George campus who doesn't have full time status but pays the union fee.
Self-nomination
The nomination process is now open through April 10th. You can only nominate yourself and you may authorize others to fill out the form for you.
– Conditions for nomination
The nominee needs to meet the above eligibility conditions.
A person could be nominated for more than one positions. However, if they win in two or more positions, they can only choose one of them.
All candidates must submit a promotional statement explaining their qualifications. Those who are running for design and marketing coordinator also need to submit a portfolio of at least one piece of work.
– Notes on information collection
SLUGS will not use the information collected in the form for any purposes other than internal records of this election.
– Notes on academic coordinators
Starting from the 2019-2020 academic year, two Academic Events Coordinator positions will be elected every year rather than one. The top two candidates who receive the most votes for this positions will both be elected.
Positions
The positions available are described in the SLUGS Constitution, which can be accessed here.