Getting around Toronto
Use the map below and this information to navigate to the University of Toronto campus! 
If you're taking subway, streetcars and buses operated by Toronto Transit Commission (TTC), cash fare is $3.25 and are paid at the collector booths at subway stations (not available at certain exits/stations) and machines on streetcars, buses and at streetcar stops. Make sure to get a transfer when you pay at collector booth or to bus driver, this can be used for 1.5 hours. Most of the TTC subway stations have switched to Presto ticket which is available for purchase along with Presto card at Presto vending machines. If you have a Presto card or ticket, simply tap on the vehicles or in the stations. For more information on TTC fare, visit the official website.

Nearest TTC stations to Sidney Smith Hall (0)
(1) Museum Station – Subway line 1 (Yonge-University-Spadina) (~10 minute walk)
– not accessible
(2) St. George station – Subway line 1 (Yonge-University-Spadina) and line 2 (Bloor-Danforth) (~10 minute walk)
– accessible
(3) Queen's Park Station – Subway Line 1 (~10 minute walk)
– accessible
(4) Spadina Ave. at Willcocks St. (510 north/southbound streetcar stop, only the underlined part will be read on the streetcar)
– accessible
(5) College St. at St. George St. (506 westbound streetcar stop)
– accessible
(6) College St. at Beverley St. (506 eastbound streetcar stop)
– accessible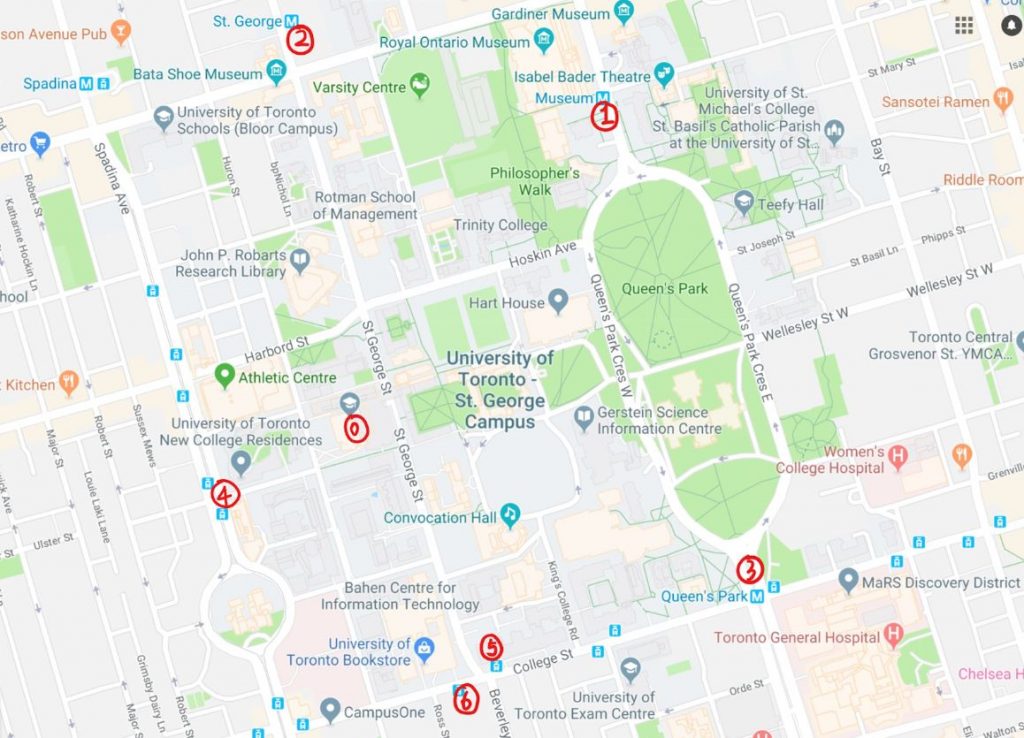 Note: For the least amount of walking outdoors, take Line 2 to Spadina, and transfer to the 510 streetcar (the platform will be a little cold!). Then get off at Willcocks St.
Spadina Station is accessible on Line 2 only; the Line 1 platform is very far from streetcar platform.
To see near campus
If you have time outside of the conference, here are some places to visit on and near campus!
Food in the area
Here are some restaurants close to campus that our volunteers personally recommend:
The Annex (north of campus)
Fresh on Bloor: 326 Bloor St W, Toronto, ON M5S 1W5

A large menu of modern vegetarian & vegan dishes plus made-to-order juices in a lively eatery

Chatime: 337 Bloor St W, Toronto, ON M5S 1W7

Bubble tea and other drinks

Piano Piano Restaurant: 88 Harbord St, Toronto, ON M5S 1G5

Wood-fired pizza, pasta & traditional Italian mains; vegetarian options

Thai Basil: 467 Bloor St W, Toronto, ON M5S 1X9
Kensington Market (southwest of campus)
El Trompo: 277 Augusta Ave, Toronto, ON M5T 2L7

Mexican, vegetarian options

Seven Lives Tacos Y Mariscos: 69 Kensington Ave., Toronto, ON M5T2K2
Fudao noodle house: 358 Spadina Ave, Toronto, ON M5T2G4
On Campus – note that most are closed or have reduced hours Saturday and Sunday!
Sid's Cafe (closed Sat & Sun)
New College dining hall (8:30am-8pm Sat & Sun)

Halal, gluten free, vegetarian, and vegan options available

Robarts library

Starbucks open 10-6 Sat & Sun, Tortillas open 11-6 Sat & Sun; other options closed

Sandford Fleming Building (Hardhat/VEDA/SKULE; closed Sat & Sun)
Bahen Centre for Information Technology (closed Sat & Sun)
Other tips

Toronto weather: it can get quite cold downtown!  Here are some tips:
– Dress in layers!  While it may be cold outside, the weather can change quickly, and heating can be uneven indoors
– A hat, scarf, and gloves help against the wind
– If it's snowy, waterproof shoes are the best choice
Time zone changes: note that we are observing daylight savings time the weekend of TULCON!  That means clocks get put forward an hour overnight.  Make sure to plan ahead and get extra sleep.
– Sunday Mar. 8 – 2:00AM → 3:00AM
---
SLUGS is not responsible for the contents on third party websites.